FootGolf Course 
Enjoy our 9 hole FootGolf course. It's perfect for any age and skill level. The goal is to get the soccer ball in the FootGolf holes and complete to course with the least number of strokes. It's a fun and inexpensive way to challenge your soccer skills.
$5 Per Person
$3 Ball Rental (Bring ID)

Driving Range
We have 36 spacious tees and grass tees are available for $1 more per bucket. This additional charge is to take care of the maintenance of the grass tees.
$5 Small bucket
$8 Medium bucket
$10 Large bucket
A $1 discount is offered to all active Police, Fireman and US. Military with proper I.D. We appreciate your service and sacrifice you and your family provide! 

Executive Level Golf Course
Practise your golf game at Black Horse. We have a 9 hole golf course for you to enjoy.
$5 Per Person
$3 Club Rental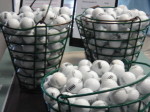 Chipping and short game area
The bunker area is dedicated to perfecting the short game. A unique practice environment unmatched by any other golf facility in the area.

Putting Green
3000sq. ft. synthetic putting green adjacent to the Links at Blackhorse. The putting green is FREE of charge!